Features designed to assist your private events and club catering teams to be better organized and have a significant impact on forecasting and sales growth
[woodmart_title woodmart_css_id="5f8487e1b5fc9″ title="CRM Software Features for Club Catering and Private Event Professionals" title_width="100″ el_class="heading-six"]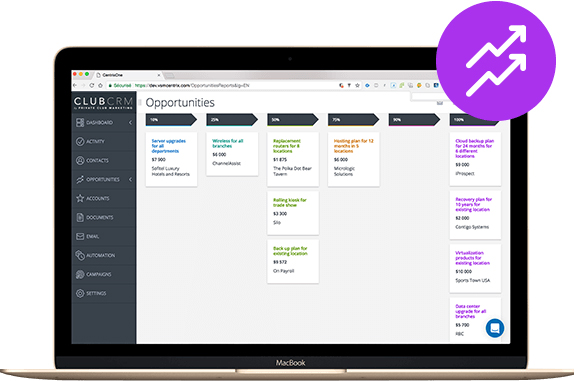 [woodmart_title align="left" woodmart_css_id="5f848bfaa261b" title="Increase event bookings and
productivity" title_width="100″ el_class="heading-six" title_custom_color="eyJwYXJhbV90eXBlIjoid29vZG1hcnRfY29sb3JwaWNrZXIiLCJjc3NfYXJncyI6eyJjb2xvciI6WyIgLndvb2RtYXJ0LXRpdGxlLWNvbnRhaW5lciJdfSwic2VsZWN0b3JfaWQiOiI1Zjg0OGJmYWEyNjFiIiwiZGF0YSI6eyJkZXNrdG9wIjoiI2FhMzJlZCJ9fQ=="]
See your sales pipeline at a glance
Move your opportunities through sales stages
Set alerts and notifications
Save time finding documents by attaching them to your contacts
Access ClubCRM from your mobile on the go
[woodmart_title align="left" woodmart_css_id="5f848dd13dd39″ title="Improve your pipeline
visibility and event
management" title_width="100″ el_class="heading-six" title_custom_color="eyJwYXJhbV90eXBlIjoid29vZG1hcnRfY29sb3JwaWNrZXIiLCJjc3NfYXJncyI6eyJjb2xvciI6WyIgLndvb2RtYXJ0LXRpdGxlLWNvbnRhaW5lciJdfSwic2VsZWN0b3JfaWQiOiI1Zjg0OGRkMTNkZDM5IiwiZGF0YSI6eyJkZXNrdG9wIjoiIzIxOTllZCJ9fQ=="]
Access to view forecast and pipeline in real time
Review activities, pipeline and sales dashboards in a snapshot
Let's you take action and stay in control
Easy and intuitive to use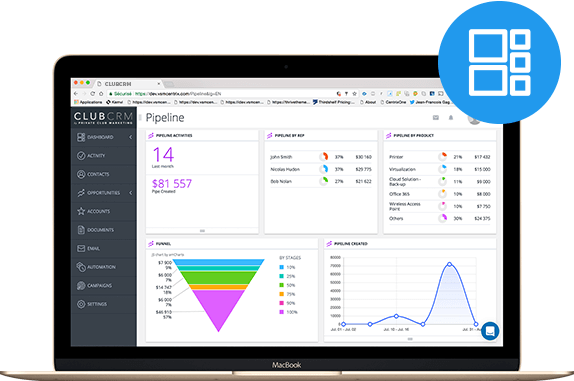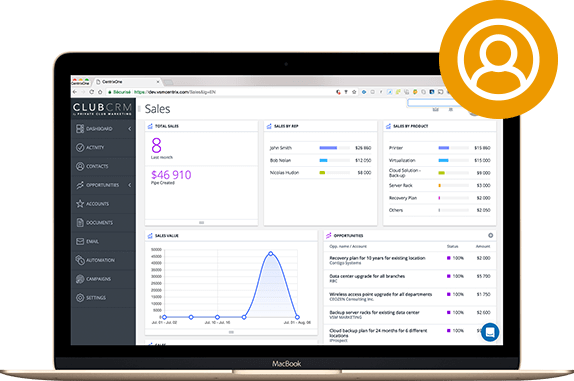 [woodmart_title align="left" woodmart_css_id="5f84881851ba8″ title="Centralize member, guest &
business information" title_width="100″ el_class="heading-six" title_custom_color="eyJwYXJhbV90eXBlIjoid29vZG1hcnRfY29sb3JwaWNrZXIiLCJjc3NfYXJncyI6eyJjb2xvciI6WyIgLndvb2RtYXJ0LXRpdGxlLWNvbnRhaW5lciJdfSwic2VsZWN0b3JfaWQiOiI1Zjg0ODgxODUxYmE4IiwiZGF0YSI6eyJkZXNrdG9wIjoiI2VkOTkwMCJ9fQ=="]
Organize and access all of your account information in one place
Import, build & manage your lists and contacts easily
Enrich contact profiles with our through social media connector
Track all activities, files, contacts, notes, deals, estimates, sales
Build out and personalize with custom fields
Filter your data quickly based on various criteria
[woodmart_title align="left" woodmart_css_id="5dad9553ed086″ title="Simplify your activity
management" title_width="100″ el_class="heading-six" title_custom_color="eyJwYXJhbV90eXBlIjoid29vZG1hcnRfY29sb3JwaWNrZXIiLCJjc3NfYXJncyI6eyJjb2xvciI6WyIgLndvb2RtYXJ0LXRpdGxlLWNvbnRhaW5lciJdfSwic2VsZWN0b3JfaWQiOiI1ZGFkOTU1M2VkMDg2IiwiZGF0YSI6eyJkZXNrdG9wIjoiIzU0YmEyMSJ9fQ=="]
Centralize tasks and activities for upcoming events
Schedule tasks and meetings, and view priorities
Access your activities on the road from any device
Setup activity reminders and alerts
Create activities for yourself and for your team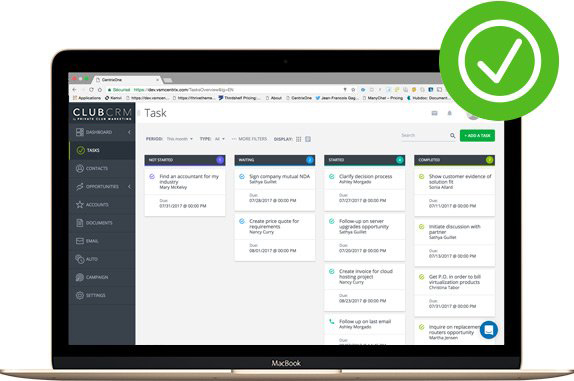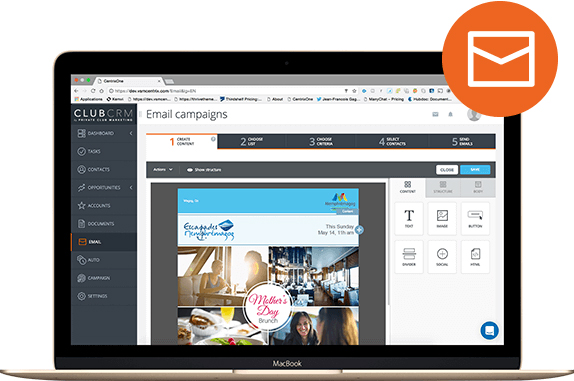 [woodmart_title align="left" woodmart_css_id="5f848e0843b0c" title="Create engaging emails campaigns
targeting your leads and segmented lists" title_width="100″ el_class="heading-six" title_custom_color="eyJwYXJhbV90eXBlIjoid29vZG1hcnRfY29sb3JwaWNrZXIiLCJjc3NfYXJncyI6eyJjb2xvciI6WyIgLndvb2RtYXJ0LXRpdGxlLWNvbnRhaW5lciJdfSwic2VsZWN0b3JfaWQiOiI1Zjg0OGUwODQzYjBjIiwiZGF0YSI6eyJkZXNrdG9wIjoiI2VkNjUyMSJ9fQ=="]
Intuitive drag-and-drop email editor
Start from email templates or create your own
Send email campaigns to nurture your leads and increase conversion
Track email activity from a simple dashboard
Mobile friendly responsive email templates
Preview emails as they would appear on any device
Personalize emails based on first name, company name, or any custom information
Each email is sent out one at a time, to help avoid spam filters
[woodmart_title align="left" woodmart_css_id="5dad958c3ae1e" title="Marketing
automation saves
time and increases
engagement" title_width="100″ el_class="heading-six" title_custom_color="eyJwYXJhbV90eXBlIjoid29vZG1hcnRfY29sb3JwaWNrZXIiLCJjc3NfYXJncyI6eyJjb2xvciI6WyIgLndvb2RtYXJ0LXRpdGxlLWNvbnRhaW5lciJdfSwic2VsZWN0b3JfaWQiOiI1ZGFkOTU4YzNhZTFlIiwiZGF0YSI6eyJkZXNrdG9wIjoiI2RkMzJiYSJ9fQ=="]
Increase engagement with pre-set emails ready to go
Automate and personalize web form or landing pages responses
Schedule benchmark emails for your clients with pre-set specific delivery dates
Setup lead scoring to evaluate prospect readiness to buy
Advanced features include automated tasks, notifications for you & your team
Connect your website or landing page to web analytics to view traffic and activity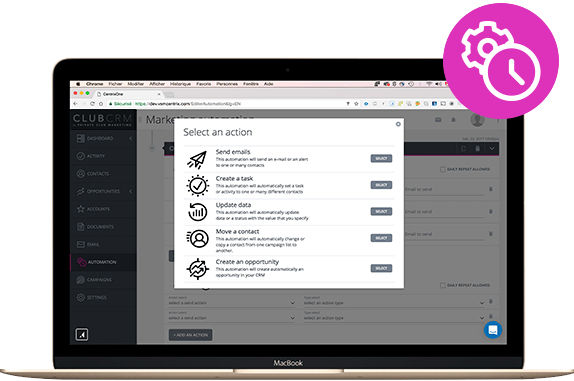 ClubCRM has all the essentials you need and more to be released frequently.
Sign up for a demo to see all the other features in action.
[woodmart_title align="left" woodmart_css_id="5daa903ba0971″ title="Hire a partner.
Take advantage of our
integrator network." title_width="100″ el_class="heading-six"]
Need some extra help? Benefit from our premier integrators to accelerate your ClubCRM implementation—and sales!
From initial setup and customization to integration and training, there is no better resource than our worldwide network of integrators.
[woodmart_button button_inline="yes" title="CONTACT US" link="url:https%3A%2F%2Fclubcrm.co%2F%3Fpost_type%3Dpopup%26p%3D280|title:Let%E2%80%99s%20Talk%20us|target:_blank" woodmart_css_id="6128fd266e384" full_width="no" bg_color="eyJwYXJhbV90eXBlIjoid29vZG1hcnRfY29sb3JwaWNrZXIiLCJjc3NfYXJncyI6eyJiYWNrZ3JvdW5kLWNvbG9yIjpbIiBhIl0sImJvcmRlci1jb2xvciI6WyIgYSJdfSwic2VsZWN0b3JfaWQiOiI2MTI4ZmQyNjZlMzg0IiwiZGF0YSI6eyJkZXNrdG9wIjoiIzNiNDY1NCJ9fQ==" bg_color_hover="eyJwYXJhbV90eXBlIjoid29vZG1hcnRfY29sb3JwaWNrZXIiLCJjc3NfYXJncyI6eyJiYWNrZ3JvdW5kLWNvbG9yIjpbIiBhOmhvdmVyIl0sImJvcmRlci1jb2xvciI6WyIgYTpob3ZlciJdfSwic2VsZWN0b3JfaWQiOiI2MTI4ZmQyNjZlMzg0IiwiZGF0YSI6eyJkZXNrdG9wIjoiIzgxOGE5MSJ9fQ==" el_class="btn-one" button_smooth_scroll="no"]
[woodmart_title woodmart_css_id="5daa96f65067e" title="Ready to sell more?
Get started today!" title_width="100″ el_class="heading-six" css=".vc_custom_1571460887898{margin-bottom: 0px !important;}"][woodmart_button color_scheme_hover="dark" button_inline="yes" title="FREE TRIAL" link="url:https%3A%2F%2Fclubcrm.co%2Fpricing%2F|title:Try|target:_blank" woodmart_css_id="6237c8dd09903" full_width="no" bg_color="eyJwYXJhbV90eXBlIjoid29vZG1hcnRfY29sb3JwaWNrZXIiLCJjc3NfYXJncyI6eyJiYWNrZ3JvdW5kLWNvbG9yIjpbIiBhIl0sImJvcmRlci1jb2xvciI6WyIgYSJdfSwic2VsZWN0b3JfaWQiOiI2MjM3YzhkZDA5OTAzIiwiZGF0YSI6eyJkZXNrdG9wIjoiI2ZmZmZmZiJ9fQ==" bg_color_hover="eyJwYXJhbV90eXBlIjoid29vZG1hcnRfY29sb3JwaWNrZXIiLCJjc3NfYXJncyI6eyJiYWNrZ3JvdW5kLWNvbG9yIjpbIiBhOmhvdmVyIl0sImJvcmRlci1jb2xvciI6WyIgYTpob3ZlciJdfSwic2VsZWN0b3JfaWQiOiI2MjM3YzhkZDA5OTAzIiwiZGF0YSI6eyJkZXNrdG9wIjoiI2ZmZmZmZiJ9fQ==" el_class="btn-one" button_smooth_scroll="no"]